How Edekit Works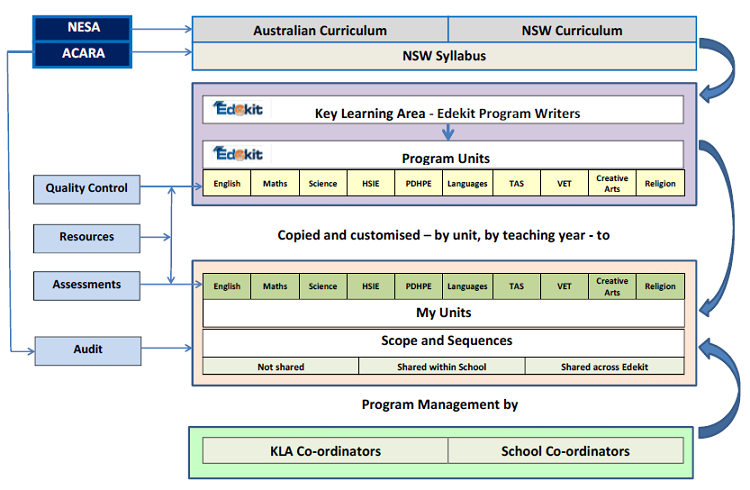 The NSW Education Standards Authority (NESA) develops the curriculum for delivery across all NSW schools.ACARA has developed curricula in certain KLA/school years. The NSW Syllabus addresses the required curriculum learning outcomes by prescribing subject level teaching guidelines.
Edekit KLA Subject Matter Experts have analysed the teaching guidelines and subsequently developed comprehensive teaching and learning program units across all KLAs.
Edekit's Unit Standards Framework provides an effective quality control process ensuring compliance with NESA requirements.
Relevant resources and assessments have been either developed or sourced externally and attached to specific program units saving significant amounts of time for teachers.
Teachers copy Edekit units (or units offered for sharing by Edekit members) to their own "My Units" section. Teachers can then customise the units to suit their particular teaching style and/or adapt to different teaching years.
Teacher units can be shared within a school or across the Edekit network.
An on-line generator is used to generate subject specific scope and sequences.
School and KLA co-ordinators can access and review/comment on all units within their particular Edekit membership. This Edekit functionality provides an extremely effective program management framework.
Edekit is confident that all Edekit developed program units satisfy NESA audit requirements.